As many of you know, our philosophy is to listen to our users when deciding new features to implement. Today we are highlighting two of the more recent features we've added, Package Forwarding and Enhanced Recipient Management, which are now live and were the result of feedback from our growing user base.
Package Forwarding
With package forwarding, users can forward files they received through SendSafely almost instantly to other recipients. This option is great when you receive large files that you ultimately want to send to someone else you're working with. No need to download and then re-upload, resulting in a huge time save.
The option to forward a package can be found underneath the file listing when downloading files from a received package. Just press the "Forward to Other Recipients" button, and a new package will be instantly created with all of the original files included. You can then optionally delete or even add other files just like you normally would when editing a new package.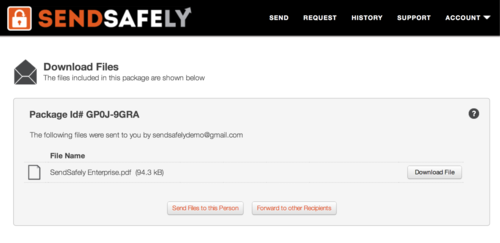 Enhanced Recipient Management
We've expanded the options you have when it comes to managing access for your recipients. In addition to allowing a mix of SMS and/or Email verification within a given package, you can now add or disable package recipients after your files have been uploaded and made available for download. Adding or revoking someone's to an existing package could not be easier. So now, when you decide you want to add (or remove) a single person's access to an existing package, you can easily do so. This feature, which supports both Email Verification and SMS Verification for newly added recipients, is available at the bottom of the package status page for all active packages.
We hope you enjoy these new features as much as we do, and continue to provide us with feedback. We wanted to make it easy to provide feedback so we added a nice green "Feedback" button on the left side of every page to make easy to share your thoughts with us…so please use it. We'd love to hear from you!