At SendSafely we are genuinely passionate about the problems we try to solve every day, and we're looking for talented software developers to join us. If you are a highly motivated self-starter, and enjoy the flexibility that comes with working remotely, you might be a good fit.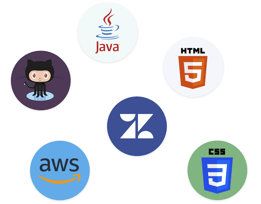 Who are we looking for?
Our ideal candidate is a software developer that primarily codes in Java and/or JavaScript, and has been doing so professionally for at least two years. You should have a good understanding of how web applications work and knowledge of the HTTP/HTTPS protocol along with a strong understanding of HTML and CSS. Our development work flow heavily revolves around GitHub, and our platform runs almost entirely in AWS, so experience with these platforms is preferred.
What will I do at SendSafely?
Most of what you'll do each day is building and enhancing the SendSafely platform. Our development team operates across the our full-stack, so you'll be working across the entire code base. SendSafely's core platform is built on Java/J2EE, and uses HTML5 and JavaScript extensively on the front-end. Our systems run almost entirely in Amazon Web Services (AWS) and leverage our own REST API underneath the hood. You'll have a primary focus of working with the SendSafely API to expand the platform into new integrations as well as building in new features.
Sound Awesome? Visit our careers page for more details and information on how to apply. Don't miss out!