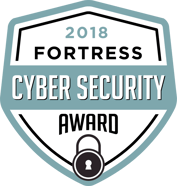 The Business Intelligence Group announced that SendSafely's Dropzone has been named as the Winner of the 2018 Fortress Cyber Security Award in the Encryption category!
The Fortress Awards identify and reward the world's leading companies and products that are working to keep data and electronic assets safe among a growing threat from hackers.
SendSafely was awarded the highest possible rating from the team of judges, comprised of working executives from the cyber security and information technology fields. The proprietary and unique scoring system selectively measured performance across multiple business domains and rewarded those companies whose achievements stood above those of their peers. SendSafely is thrilled to have been chosen as one of this year's winners.
Visit the Fortress Cyber Security Awards website for the complete list of winners.