The SendSafely Dropzone is routinely used to secure highly confidential customer identity verification documents (like drivers licenses, passport photos and bank statements) while in transit to service desk agents using our best in class end-to-end encryption. But what happens after this information reaches your customer service agent?
Many organizations that previously had well controlled data room environments have been forced to go remote. Imagine the data leakage risk associated if an agent were now viewing and downloading these files on laptops in their living room. This scenario is enough to keep a Service Desk Manager up at night.
SendSafely can help team leads sleep a little easier with our new Watermarking and Restrict Download features, that combined with access logging discourages inappropriate use of customer data no matter where agents are located. Read on to learn how these three features can provide an additional layer of protection and peace of mind for all service desks that handle sensitive documents.
Watermarking Dropzone Uploads
Watermarking embeds the email address of the agent viewing the file across the image or PDF. The watermark is applied whether the agent is viewing the file in the SendSafely web portal or in our native Help Desk Apps for Zendesk and Salesforce Service Cloud. Watermarks persist if the file is downloaded or saved, providing agent accountability for the secure handling of customer PII no matter where these files get stored.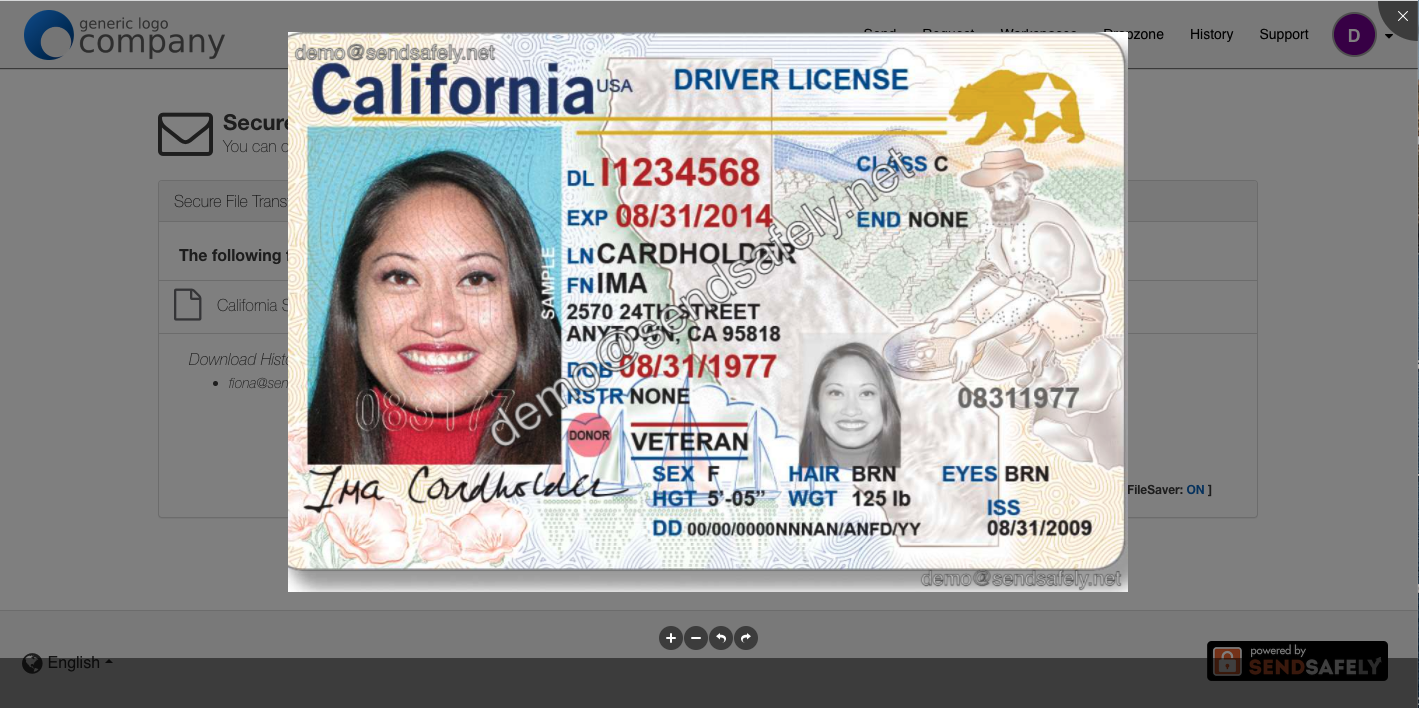 Watermarking can be enabled on an individual Dropzone by selecting a checkbox from the Dropzone profile. Once enabled, any PDF or image file (.png, .gif, .jpg, .jpeg, .bmp) uploaded to that Dropzone will be automatically watermarked with the agent's email address when they access the file.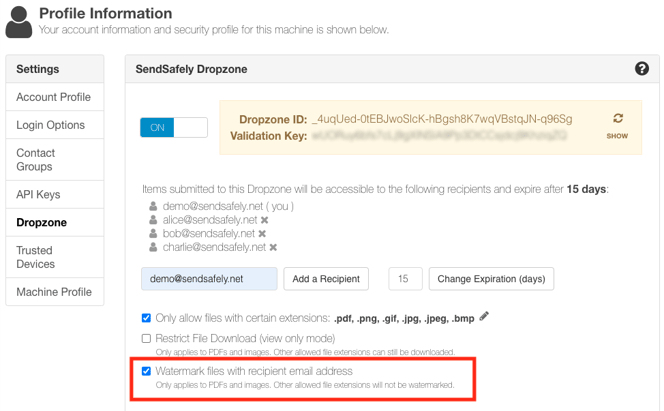 When you enable this feature, SendSafely will prompt you to restrict the permitted file types to only those that support Watermarking. If the Dropzone is not restricted to these file types, other files will be allowed to be uploaded but will not be watermarked.

Adding a watermark is a fast and easy way to add an extra layer of protection to your confidential information. This feature is included in the SendSafely Advanced Privacy Bundle.
Restrict Dropzone Downloads
To further enhance the security of Customer PII uploaded to a Dropzone, SendSafely recommends enabling our Restrict File Download feature in addition to Watermarking. When turned on, agents can view uploaded files using the SendSafely preview option but cannot save, print or download the file. The preview option also works natively with our Zendesk and Salesforce Apps, providing agents with a seamless viewing experience. This is a great feature to enable if documents only need to be visually reviewed by agents but you don't want them saved locally to their device.
Restrict File Download can be enabled from the Dropzone profile and applies to PDF and image files only. This feature is included in the SendSafely Advanced Privacy Bundle.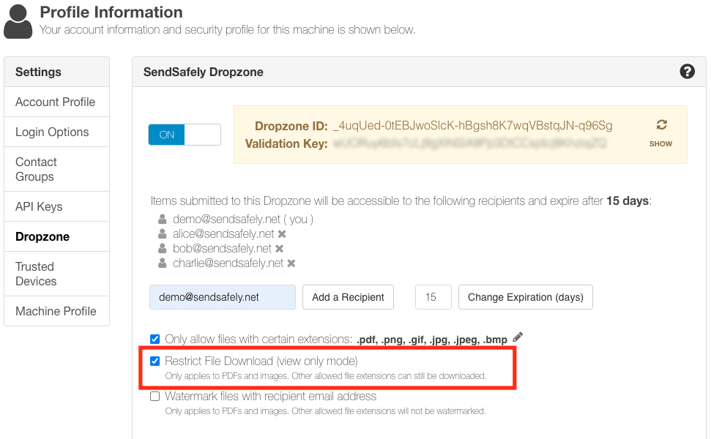 Download History
SendSafely records an access log entry every time a user views or downloads a Dropzone file. The user's email address, date and time of the download is displayed on the SendSafely receive page, where it is visible to other Dropzone recipients. The visibility of this download history also helps to provide accountability and audit capabilities for all file views.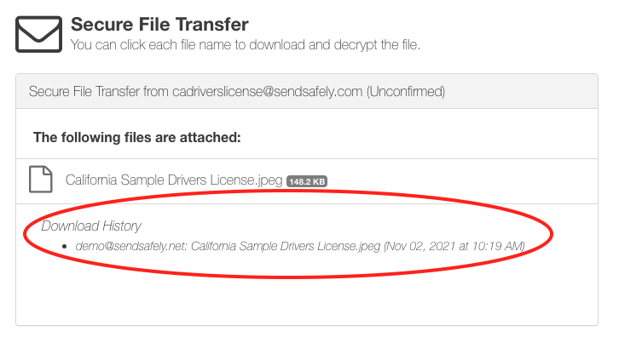 Watermarking and Restrict File Download are included as part of the SendSafely Advanced Privacy Bundle. Contact sales@sendsafely.com for more information on how to enable this option for your SendSafely subscription.
---
SendSafely: Encrypted File Transfer for Modern Business
If your organization needs a secure way to transfer files with customers or business partners, our platform might be right for you. Contact us today.