The Enterprise Console has been redesigned for easier navigation and use. Admins can now quickly jump to their desired management function using new left aligned menu tabs. We have also added a new portal Profile, providing admins information on their licensing, hosting and domain settings.
In the new layout, each section of the Enterprise Console is grouped in its own tab on the left hand side of the screen.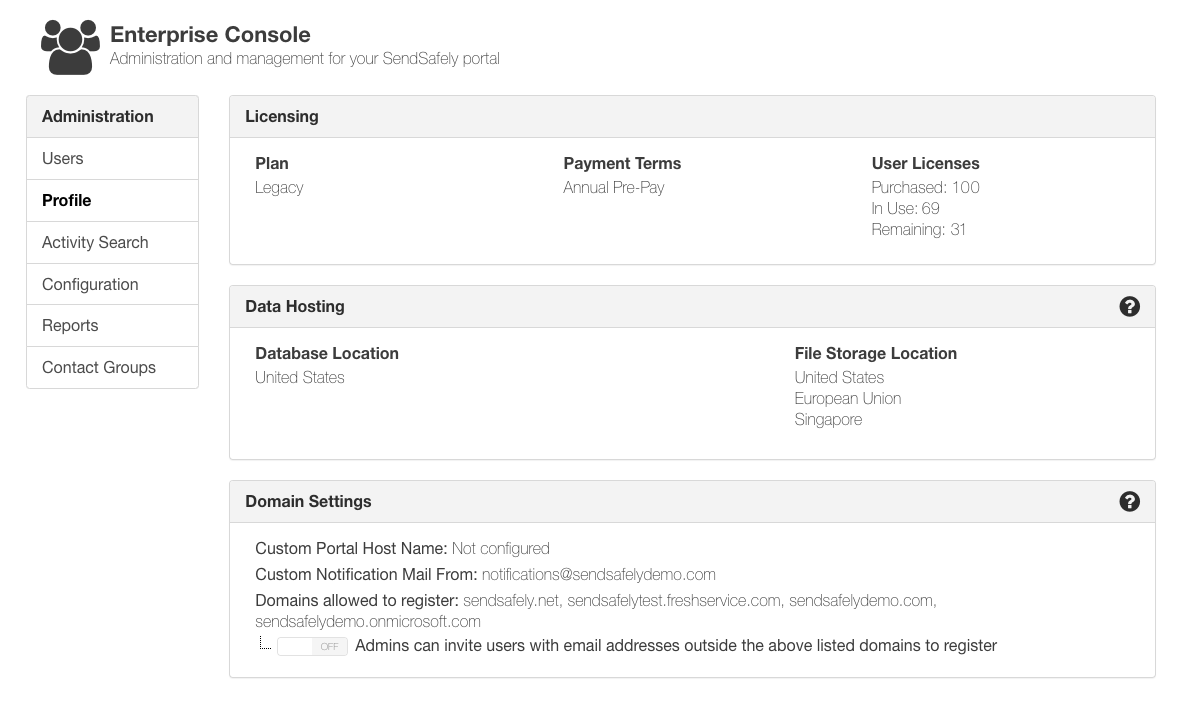 The administrative functions located in each menu section as are follows:
| | |
| --- | --- |
| Menu | Functions |
| Users | Registered User Listing |
| | Add/Invite New Users |
| | Deactivated User Listing |
| Profile | Licensing |
| | Data Hosting |
| | Domain Settings |
| Activity Search | Package Activity Search |
| Configuration | Site Configuration Options |
| | Color Scheme and Logo |
| | Authentication Providers |
| Reports | Activity Dashboard |
| | Admin Reports |
| Contact Groups | Manage/View Enterprise Contact Groups |
The new Profile section displays the following portal details:
Licensing
Plan: Your current SendSafely plan
Payment terms: Monthly pay-as-you-go or annual pre-pay
User licenses: Purchased, in use and remaining
For more information on plans, please see our plans and features.
Data Hosting
Database location: AWS datacenter where your portal is hosted
File storage location: Files are replicated between these AWS S3 file storage locations for availability and performance
Further detail on hosting options can be found here.
Domain Settings
Custom Portal Host Name: The custom portal URL, hosted in your own domain.
Custom Notification Mail From: SendSafely notification emails

are delivered from this email address instead of notifications@sendsafely.com.

Domains allowed to register: A user must have an email address in one of these domains to be eligible to register an account in SendSafely.

Optionally, Admins can be authorized to send registration invites to individual users with email addresses outside of these domains.
To make changes to any profile settings, please contact support@sendsafely.com.
---
SendSafely: Encrypted File Transfer for Modern Business
If your organization needs a secure way to transfer files with customers or business partners, our platform might be right for you. Contact us today.